Hand Drums and Percussion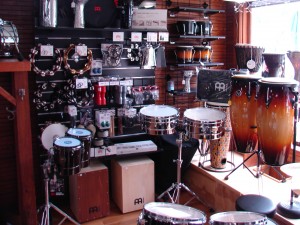 The Village Drum & Music is pleased to offer an excellent collection of Meinl, Remo World, Toca, LP, and Kopf hand drums, percussion accessories, bags and stands. We stock many makes, styles and sizes of Djembes, African Djembes, Congas, Doumbeks, Ashikos, Cajuns, Talking Drums, Udu Drums, Buffalo Drums, Frame Drums and Bongos. We also have available a selection of Cabasas, Claves, Clappers, Shakers, Maracas, Guiros, Bells, Blocks, Toca Rainsticks, Digeridoos and more. We carry many Meinl Percussion products stocking many of their high quality professional grade hand percussion items and accessories. For more information on Meinl products, visit their websites at www.meinlpercussion.com.
We are also pleased to introduce a line of cajons manufactured by Kopf Percussion, USA made with quality materials and environmentally safe finishing methods. Very nice sounding cajons at reasonable prices. For more information about Kopf, you can visit their website at www.kopfpercussion.com.