Cymbals – Hardware – Accessories
We carry many quality new & used cymbals and have a fast changing inventory, so stop by often to catch the best deals. Bring in your used cymbals to sell or trade towards new ones.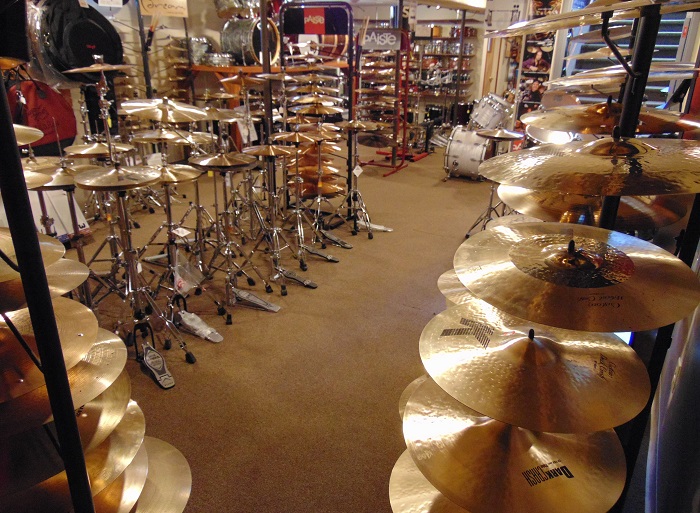 We stock a wide variety of new cymbals by Paiste, Meinl, Zildjian, Dream, Sabian, and Wuhan. For beginners we have many affordable options, both new and used. For the professional, we also offer more upscale options including the Meinl Byzance line, Zildjian K and Constantinople lines, and Paiste Signature. For more information on the cymbals we offer, visit the manufacturers websites – www.zildjian.com; www.sabian.com; www.dreamcymbals.com; www.paiste.com; www.meinlusa.com;. We are a full product line dealer for these companies and have access all of their catalog items. If we don't have a particular cymbal in stock, we will be happy to order it.
Stands, stands and more stands. We have a vast selection of used cymbal, boom, hi-hat and snare drum stands, ranging from vintage and light weight to heavy duty double braced. All our used stands are thoroughly cleaned and are in complete and proper functioning condition. For new stands, we carry Ludwig's Atlas Classic and Pro lines, as well as hardware by Yamaha, DW, PDP, Gibraltar, Sonor, and Tama.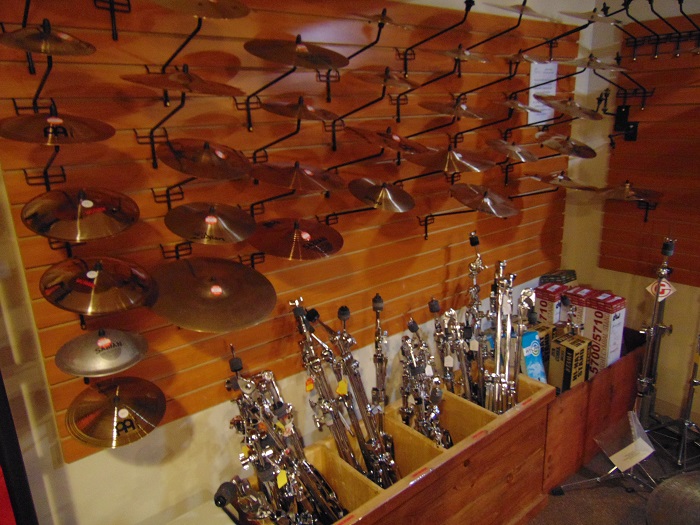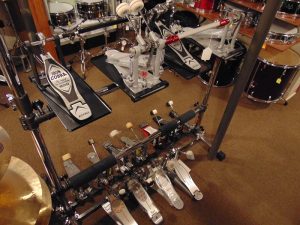 Check out our selection of new and used bass drum pedals. We carry a full line of DW singles and doubles including 9000,5000,3000, and 2000 series. We have many Tama Iron Cobras including 600, 200 series and Speed Cobra long boards. Ludwig pedals include the Atlas Pro line, as well as pedals by Yamaha, Pearl and Sonor.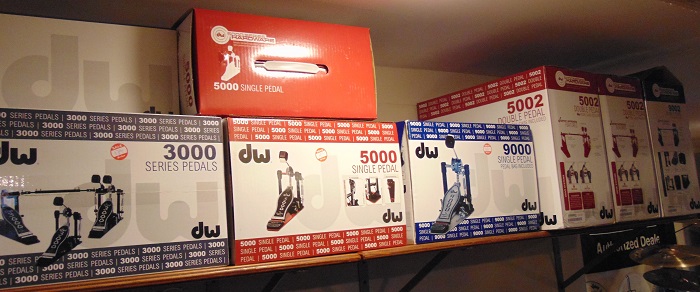 Our drum head stock is vast. We stock heads by Remo, Evans, Attack, and Ludwig. We are also an Aquarian dealer and stock a full line including Super Kick bass drum heads.
Hundreds of accessories are available in the shop – new, used, vintage, and modern. We carry a wide variety of wire snares by Puresound and Fat Cat in many sizes for both modern and vintage drums. We also carry items such as the new Cympad cymbal felt replacements (www.cympad.com) , "The Grombal" and "Cymbal Chief". (www.thegrombal.com and www.cymbalchief.com) Big Fat Snare (bigfatsnaredrum.com) and others. We are constantly adding new product lines as they become available from the drum and cymbal industry.
You will also find a good selection of thrones by Ahead, Gibraltar, Tama, PDP and Ludwig. Roc & Soc hydraulic and standard thrones are also available.
Do you need lugs, metal hoops, bass drum hoops, tension rods, snare drum parts? The list goes on . . . we invite you to come check the hundreds of organized parts we have available. If we don't have it, we will be glad to help find it for you. Please let us know if there is something you would like for us to stock and we will be happy to order it.