Drumsets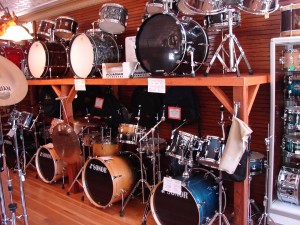 The Village Drum & Music carries a wide variety of new, used and vintage drums. We specialize in the used drum market. All the used drums we bring into our store are all fully cleaned, reconditioned and restored to their best possible condition. Many of our kits are mistaken for new by our customers. If you prefer new, we offer many options for manufacturers, configurations, and price. We are a certified Sonor dealer and have access to the complete Sonor drum line including standard and custom German drum kits. To browse Sonor's products, visit the Sonor website at www.sonor.com. The Village Drum is proud to be a Ludwig certified dealer as well and we stock many Ludwig Drum Kits, Snare Drums and Accessories. To browse Ludwig products, visit their website at www.ludwig-drums.com.  We have recently added Pearl Drums to our inventory and stock Pearl parts, pedals, hardware and accessories.  Visit their website at www.pearldrum.com to check out special offers available to you Pearl ethusiasts. We have most recently become a certified dealer for DW (Drum Workshop, Inc.) and PDP (Precision Drum Company) and are very excited about stocking a wide selection of DW Drum kits, PDP kits, hardware, accessories and parts for all you DW and PDP drummers. Check out their websites at DWdrums.com and Precisiondrum.com for detailed information on their product options.
We are confident that when it comes to drum set selections, configurations, hardware, cymbals and accessories, The Village Drum can help you create the set up to make your drumming experience all that you want it to be and more. We continue to expand our selection of drums, kits and accessories to offer our customers more choices of awesome drum gear. Our inventory changes frequently and its a good idea to check in often. If there is something particular you are looking for, let us know and we'll make every effort to help find it for you.
We are always looking to buy used drums, complete or incomplete sets, hardware, and cymbals. If you are looking to sell any of your used musical instruments or equipment, give us a call or stop by.
All used kits purchased from us carry a one year warranty on the drums and hardware (cymbals and drumheads are not included). We will repair or replace any defective parts under normal use for the period of one year from the date of purchase. We want our customers to be confident in their decision to purchase our used sets and offer this warranty as a service to insure that you will be fully satisfied with your purchase.
Our passion is vintage drums. We buy, sell and collect vintage drums and have a nice selection of vintage drum parts as well. If you need a part to complete that vintage kit or snare drum, come by and we will look through our inventory and find what you need.
See below and also Click on the For Sale link above to look at several of the drum sets and snare drums we have in stock available for purchase.
Click on images to enlarge and view prices and descriptions