Drum Parts and Drum Restoration
Parts and Vintage Parts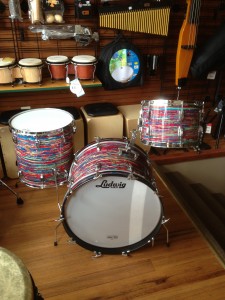 Here at The Village Drum & Music, we use many parts so we have many parts. We have many vintage and non-vintage parts in stock so if you need a lug, t-rod, mount, rim, hoop, tension rod, etc., you can either give us a call or come down and browse through our many organized parts bins. We do acquire and use a lot of parts so our inventory changes constantly. If you have any stands or hardware in need of repair, we have an extensive inventory of stands parts so bring them to us and we will see what we can do to get them back in shape.
Restoration Services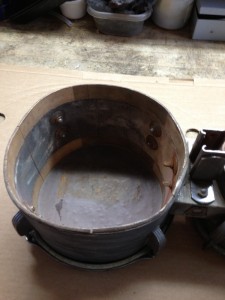 Before we sell any of our used drums or drums sets, they are completely disassembled, cleaned and reassembled and any repairs are made at that time if necessary.
Whether it's a good cleaning you need, repair or restoration, we can take care of this for you. We are fully equipped to repair or restore your drum piece or complete set to its best possible condition, satisfaction guaranteed.
Restoring your vintage drums not only restores their appearance but also restores their value. We take great pride in our restoration service as this is what we enjoy the most. We have many resources to help restore your drums back to their original condition. We usually have restored vintage snares and sets on the floor so you can see the results for yourself.