Cymbals – Hardware – Accessories
We carry many quality used cymbals and we have a constantly changing selection in our inventory. Many Zildjians, Sabians, Paistes, rides, crashes, hi-hats, chinas and splashes. Our inventory changes continuously and because our cymbals are reasonably priced, they sell very quickly.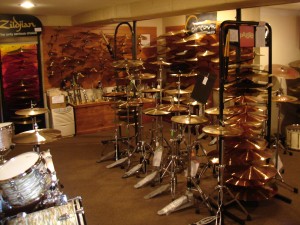 We have a great selection of stands, and all sorts of hardware including Ludwig parts and accessories. We have available to our customers all Ludwig accessories, hardware, cases, pedals, heads and repair and replacement parts including Ludwig's new Atlas Classic and Pro Hardware Line.  In addition to new Paiste, Meinl, Zildjian, Instanbul, Dream, Sabian, and Bosphorus cymbals, we have now added Amedia to our inventory.  For beginners we have many affordable options, both new and used. For the professional, we also offer more upscale options to include the Meinl Byzance Sand Rides and Sand Hats, Zildjian K-Customs and Constantinoples, Paistes, Bosphorus and Instanbul Mehmets. For more information on our various cymbal lines we offer, visit their websites at www.zildjian.com; www.sabian.com; www.dreamcymbals.com; www.paiste.com; www.meinlusa.com; www.bosphoruscymbals.com and www.instanbulmehmet.com. We are a full product line dealer for all these companies and have access to any of their available products. If we don't have a particular cymbal in stock, we would be happy to order it. For you Paiste fans, we also have in stock the Paiste Cymbal Cleaner and Protector.
Stands, stands and more stands. We have a vast selection of used cymbal, boom, hi-hat and snare drum stands, ranging from vintage to heavy duty double braced. All our used stands are thoroughly cleaned and are in complete and proper functioning condition. We also have in stock Ludwig's Atlas Classic and Pro Hardware, and a full line of DW and PDP hardware as well.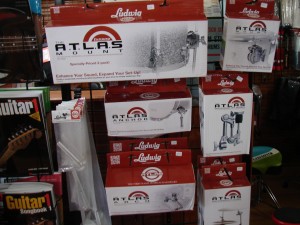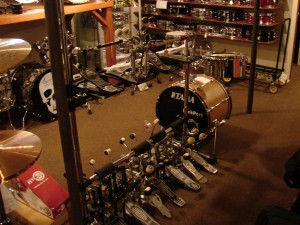 Check out our selection of new and used bass drum pedals. We have new Sonor JoJo Mayer bass pedal in stock as well as the new Ludwig Atlas Pro Bass Pedal, DW-5000 single and double pedals, Taye Double Bass pedals and Gibraltar Double Bass Pedals.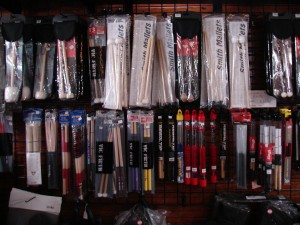 Our drum head stock is vast. We stock many Remo, Evans and Attack drum heads and some selective Ludwig drum heads as well. We are also an Aquarian dealer and stock a variety of their drum heads including a full selection of the Super-Kick bass drum heads. We also carry Aquarian's newest line of heads which include the Super-Kick 10″ and the Triple Threat. For more information on Aquarian Drumheads, visit their website at www.aquariandrumheads.com.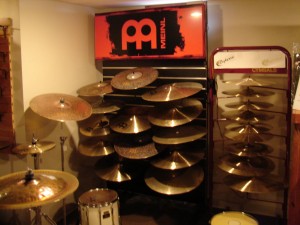 We are an authorized dealer of KickPort bass drum ports. For information on the KickPort visit their website at www.kickport.com. We also carry hundreds of other accessories, from new to used, vintage to current. We also carry the new Cympad cymbal felt replacements seen at www.cympad.com.  A couple of new products available for you cymbal fanatics are "The Grombal"  and "Cymbal Chief".  For more information, visit www.thegrombal.com and www.cymbalchief.com.  We are constantly adding new products lines so keep visiting our website to stay updated on new products available in the drum and cymbal industry.
We are pleased to be an authorized representative of SilverFox drumsticks, the longer lasting stick. Visit the Silverfox website at www.silverfoxpercussion.com. We have a super selection of Vic Firth and Vater as well. We have recently added to our stick selection the new Boso Handcrafted Bamboo sticks. We also stock Timpani and Bell mallets.
You will also find a very nice selection of Gibraltar and Ludwig drum thrones. Roc & Soc's are also available by order.
Need lugs, hoops, bass drum hoops, tension rods, snare drum parts, the list goes on, we invite you to come sift through the hundreds of organized parts available. If we don't have it, we will be glad to help find it for you.
We are pleased to offer the vast selection of cymbals, hardware and accessories we have available and we strive to make even more products available to our customers. Please let us know if there is something you would like for us to stock and we would be happy to order it.