Welcome to The Village Drum & Music
We are a family owned music store located in North Scituate, Rhode Island operating since September, 2009. We specialize in new and used drums, percussion instruments, cymbals, hardware, parts, accessories and supplies.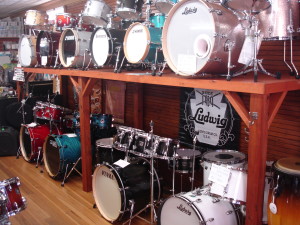 Restoration services are available for those customers whose drums need a little TLC, a good cleaning, refinishing or parts replacement. We are always looking to buy used drums, any condition, complete or incomplete sets, hardware, cymbals, etc. Give us a call or stop by if you have used musical instruments or equipment that you would like to sell.
Drum, guitar, and bass lessons are available. For more information regarding lessons, click here to learn more about our instructors and review their biographies.
Browse our website to view the various products and services we have available. We are certified Ludwig, Drum Workshop, PDP, Sonor, Pearl, and Tama, authorized dealers for Zildjian, Meinl, Paiste, Bosphorus, Instanbul, Dream Cymbals, Amedia, SilverFox Drumsticks, Kickport, and Kala Ukuleles.   We carry many Ludwig Parts and Accessories in stock.  We also have access to Pearl, Tama, and DW hardware, repair parts and accessories. We carry many named brands that can be seen throughout the website and we add new products to our inventory continuously.
Please feel free to give us a call or email us at anthonydefusco@cox.net and we will be happy to answer any questions you may have.
We are proud to offer quality merchandise at excellent prices and pleasant and professional service – guaranteed. Visa, Mastercard, American Express, Discover Card and Paypal are accepted. We also ship worldwide. Layaway and gift certificates are also available for your convenience.
You can purchase gift certificates online by selecting the amount on the link below. Online orders are mailed within 48 hours of purchase.